American-USSR Joint Research
Longevity in Azerbaijan has been studied at the Laboratory of Physiology and Longevity and at the Physiological Institute (Ethnographic Section) of the Academy of Sciences. A great impetus for the initial studies was an American-Soviet Program which began in 1977 under the leadership of Vera Rubin (Research of Institute of the Study of Man in New York City) who initiated cross-cultural, multi-disciplinary studies with particular focus on medical and socio-cultural factors. Americans initially started studying the Abkhasians, only to realize later that a higher incidence of longevity existed in Azerbaijan. These days, it is generally believed that Azerbaijanis have the highest level of longevity in the Caucasus. Plans for the joint program to carry out studies of longevity in Azerbaijan vanished when Rubin died in the 1980s. Unfortunately, nothing on such an international scope has materialized since then.

Azerbaijani scientists will admit that it was difficult those days to have any scientific exchange with foreign experts. "Especially US scholars were hardly allowed in," according to Arif Abbasov, Director of the Ethnography Section of the Azerbaijan Academy of Sciences. "We were only able to hold brief seminars, as it was difficult to have them here for more than 2 or 3 days. The KGB hardly would allow us to take Americans to the field for interviewing."

Since the collapse of the Soviet Union, despite Azerbaijan's eagerness for international scientific interaction, the ensuing critical economic crisis has hindered opportunities. For example, no money is available for field surveys and no papers have been published in the past four years. It's very rare for scholars to get the chance to travel abroad even when their papers are accepted at conferences. The best most can do these days is be content that their abstracts can occasionally get printed in international conference proceedings.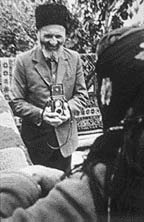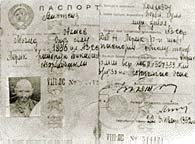 Majid Aghayev, aged 138, at time of photo, borrowing photographer's camera to, take a picture of his wife. Passport at right identifies date of birth as 1835.