Heredity - A Big Factor
Azerbaijanis credit their longevity to a combination of factors best described as the combination of heredity, environment, and psycho-socio-cultural patterns. They believe longevity basically is inherited; many people they studied confirmed that their parents, too, had lived long lives. Many of the longest lived people are those who have intermarried their own kinsmen-their cousins.

Environment plays a big role, too: the careful choice of diet from food grown on good soil in a good climate with particular attention to human beings' ability to adapt to the environment. The traditional social organization, including extended kinship inter-generational bonds contributes as it makes the transition of aging less stressful. Older people are highly esteemed in Azerbaijan and are given high positions in the family, community and greater society. The elderly are never left to feel useless or unneeded.
Not Just in Mountains
Contrary to wide-spread belief, the majority of long-lived people were not found to be living in the mountains but rather in the foothill regions where the average elevations was between 500-800 meters.7 Population longevity is possible in different climatic regions. More determinate was the people's adaptation to concrete environmental conditions which seemingly was related to the duration of that people in the area. Specifically, a non-aboriginal Russian group which had settled in Azerbaijan approximately 100-150 years ago had comparatively low longevity despite the fact that they were living next to Azerbaijanis where old age was the norm.
Plenty of Yogurt
Diet included yogurt and garlic on a daily basis. Meat was eaten only in the winter while green vegetables were primarily eaten in summer. It seems pickled foods, sweet baked products and sweet tea were rare. "Bahmaz" (concentrate made from white mulberries) was widely used which is known to contain more than 30 vitamins, minerals and amino acids and to lower the level of cholesterol in blood thus diminishing the possibility of heart diseases. Herbal medicine was believed to play a significant role, too.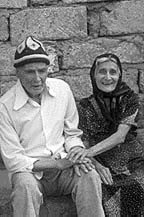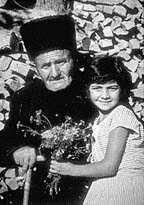 Left: Not all centenarians have enjoyed optimal living circumstances. Not all have lived unstressful lives. Musa Zeynalov, who celebrated his 100th birthday this year was born April 7, 1894. He was imprisoned by Stalin for 22 years in 1933 and spent time in the dreaded Solovki Prison in Siberia; twice he experienced the horror of death row waiting for nearly a month only to have his sentence commuted. After Stalin's death, he was released in 1955. He started his family in his mid-60s. Pictured here with his wife, Kimya Yunusova, 74, in Amirjanli village near Baku. June1994. They have 3 girls, 1 boy and 9 grandchildren. Photos: Oleg Litvin.

Right: Great, great grandpa. Old people are deeply esteemed in Azerbaijan. Some believe a contributing factor to longevity is the important role the elderly play in the life of family, community, and nation.

People in Baku idealize the country life and suggest that lack of stress plays an important role. But many centenarians have not lived under optimal conditions. What tends to be generally true is that most of them are optimists and most were still married in their old age or were trying to remarry after their spouse had died.

Longevity is an important field for the health and benefit of all mankind and Azerbaijan has an important contribution to make to this field. Presently, the average life expectancy at birth in the developed countries is about 75 years. Despite the continuous development of medicine and public health, the possibility of higher longevity appears to have slowed and the expected conquest of cardiovascular and oncological disease has not been realized.

Azerbaijan scientists look forward to continuing their studies and in doing joint research with international groups in the future as the study of longevity is a field ripe for contributions from many disciplines-biologists, anthropologists, psychologists, physiologists, demographers, ethnographers, and folklorists.

All contributors to this article are associated with the Azerbaijan Academy of Sciences. Chingiz Gasimov is Director of the Laboratory of Physiology and Longevity at the Physiological Institute. Ulduz Hashimov is with the Institute of Physiology. Arif Abbasov is Director of the Institute of Archeology and Ethnology as is Attiga Ismayilova.

Translation assistance was provided by Aliya Abassova, Jala Garibova, and Parvana Orujova

Footnotes
1 Even the 1986 of Guinness Book of World Records (32nd edition) mentions Muslimov but adds a disclaimer that "No interview of this man was ever permitted to any Western journalist or scientist." The current 1994 edition of Guinness, however, no longer includes Muslimov but identifies a 119-year-old Frenchman as the longest living person alive.

2 Kozlov, V.I. and O.D. Komarova. 1982. Geography of Longevity in the USSR (Ethnic Aspects) in Vera Rubin, ed., Proceedings of the First Joint US-USSR Symposium on Aging and Longevity: The First Two Years of Collaborative Effort in Abkhasia and Kentucky. Vol 1 of 2. p. 57. New York: IREX (International Research & Exchanges Board, 655 Third Avenue, New York, NY 10017).

3 Kozlov. p. 57. Western researchers studying this region have found that there is a greater tendency for men to exaggerate their ages than for women, and that sometimes they do so by as much as 15-20 years.

4 The seminal work of Mechnikov on the physiology of aging, the "Schools" headed by Pavlov (1913-1958) and the work of a well-known Abkhasian educator and folklorist S.P. Basaria (1928-1930) were all concerned with the Caucasian centenarians.

5 Kozlov. p. 56.

6 Ibid.

7 Kozlov. p. 58.
Ref: http://www.azer.com/aiweb/categories/magazine/23_folder/23_articles/23_centenarians.html